ICYMI – there's a new social platform to 'battle' with and it's called Threads. From the people at Meta, it's a Twitter contender that allows users to post text-based conversations. It's easy to create your account – just sign up with your Instagram account, transferring all your followers, follows and profile information in just a few clicks. It's one of the things that has made migration to the platform so quick – reaching 1 million users in just 1.5 hours.
And to be honest? I'm hopeful.
When new platforms have come out historically, we were still trying to figure out what they all meant. How do I start dancing to Tik Tok songs and being relevant? How do I find friends on Facebook? How does a texting app like Twitter eventually turn into a tool used legitimately in news and politics?
But the functions of Threads are familiar – borrowing perhaps too much from Twitter. The people we follow are familiar too – through its links with Meta. So, as more informed users, we can come to this platform with greater intention and more importantly, a greater commitment to making it a platform for good.
This is an opportunity to start afresh on a new platform and fill it with the content and teach its algorithm with what we want to see. It's an opportunity to take a step back on our own social media strategy and understand where a new platform can fit into it. And it's a chance for us all to have a greater conversation on how all social media platforms can do more for kindness, empathy and positivity.
Threads 101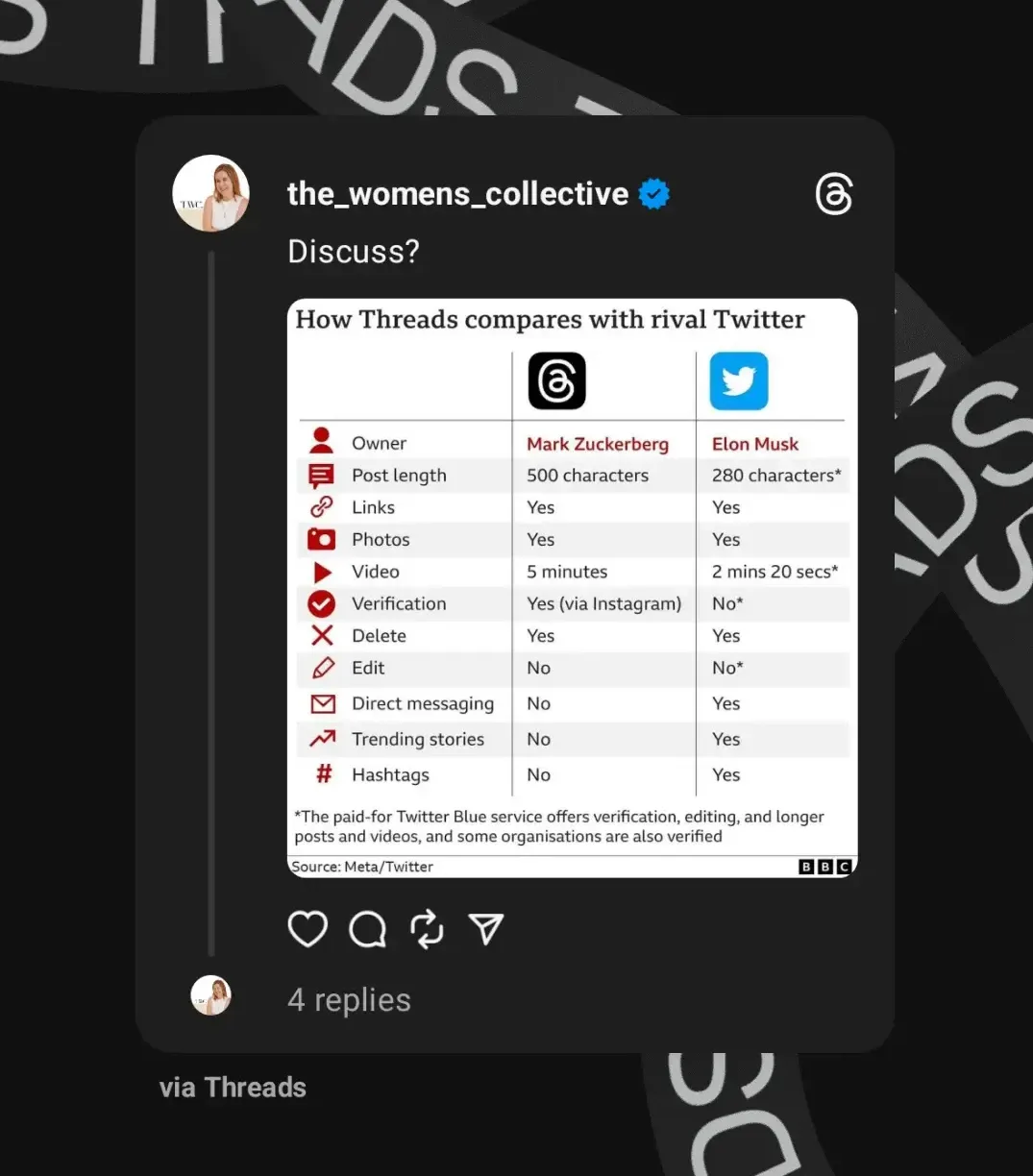 There's not much else I can share on top of this comparison. In just four days of this platform, it surely is still figuring itself out. But the functionality is definitely in development.
There is greater control on restricting content on Threads – using the same methods of reporting and blocking hate speech or spam accounts.
One key thing to note is also the update from Adam Mosseri – the CEO of Instagram. He's come out to say that Threads shouldn't be a place for news and politics. And that is terribly short-sighted. Life is inherently political and every platform has moved towards that. From information and news-based Instagram platforms like @So.Informed and @TheDailyAus to the impact that Twitter has on politics and protest, Threads will inevitably become political.
And as it should be – particularly for social entrepreneurs who want to use this as a platform for good.
Make Your Content Accessible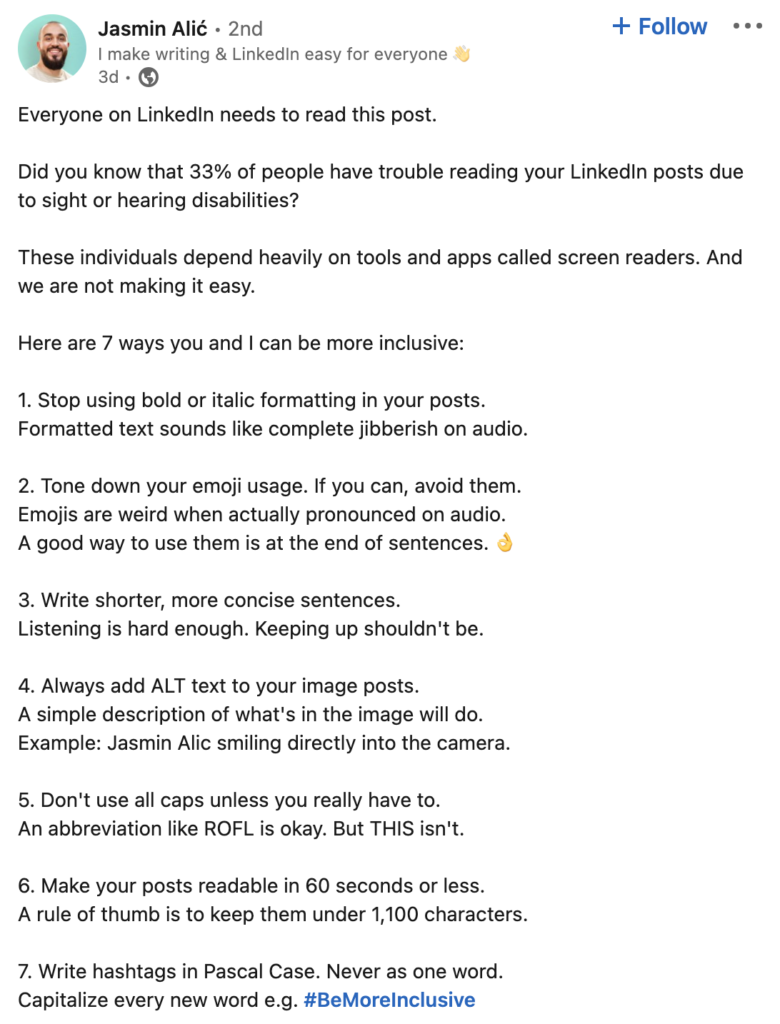 1. Stop using bold or italic formatting in your posts
2. Tone down your emoji usage
3. Write shorter, more concise sentences
4. Always add ALT text to your image posts. Threads is including the automatic Alt text from Instagram but no opportunity to edit. You can also add image descriptions to the end of your posts.
5. Don't use all caps unless you really have to (like in abbreviations like LOL)
6. Make your posts readable in 60 seconds or less (or under 1,100 characters).
7. Camel case your hashtags so they are seen as different words. #SusanAlbumParty could have used that.
Make Your Content Diverse
When you are selecting images to use or stories to share, consider whether you are telling diverse narratives. This is more than just adding a token model of colour in your next campaign. But it's about showing them in accurate narratives.
That means showing women and people of colour in positions of power. It's not using caricatures of a culture to represent them (like a lantern any time you're talking about the Chinese). It's also showing people of all shapes, sizes and abilities as much as you can in your marketing and in your business decisions.
Make Your Content Intentional
No matter what social media platform you are using, it is important to be mindful of your social media use. I'm already guilty of using Threads way too much throughout the past couple of days that it has been live. But just as with other social media platforms, there is a great opportunity to review your social media usage.
1. Remember why you're using social media. While the dopamine hits of new followers are great on Threads as everyone joins, don't rely on that to make you happy. You are more valuable than how your social media content performs.
2. Filter the negativity. You may not see the content from all the people you follow on Instagram, but this is another opportunity to review who you are following and potentially unfollow people who do not meet your values.
3. Diversify the stories you consume. Hearing from people who differ from you in opinion and in background can help you be a more empathetic person.
4. Take time off. Your memories deserve more than an Instagram feed post, they deserve a place in your heart. And your thoughts don't just need to be shared on Threads, they also work in your journal. It's ok to not join the hustle of a platform or a trend just because everyone else seems to be in it.
Make Your Content Purpose-Driven
If you are planning to make the move onto Threads, do it with a reason. Nothing has annoyed me more than to see brands merely joining to say hi and pretend their social media managers haven't just been strong-armed into being onto a new platform because it's trendy.
My saying is: "you do not love your dad any less if you do not post about him on Father's Day." And you are no less social if you don't post from every platforms.
But there are some initial benefits to joining Threads as a social entrepreneur:
Give an insight into your business with behind the scenes content and inner musings
Connect with other like-minded accounts in your vertical
Create a conversation with your audience around your larger reports
Share tips and insights that prove you are a leader in your field (eg. how we're currently using Threads to remind people the small ways they can use social media for good)
Nurture your existing customers with content that makes them proud to be advocates for you
Humanise yourself and your brand – even if it's a little unravelled
Don't just use it as a sell things; there's a general negativity towards that right now. This is about the conversations and ensuring you keep yourself at the centre of them with your core audience
Ultimately, this comes down to understanding what your brand is and how a new platform can contribute to your goals. It's ok to sit this one out. But from what we've seen, this could definitely be a fun one to start getting dug into.
Make Your Content Kind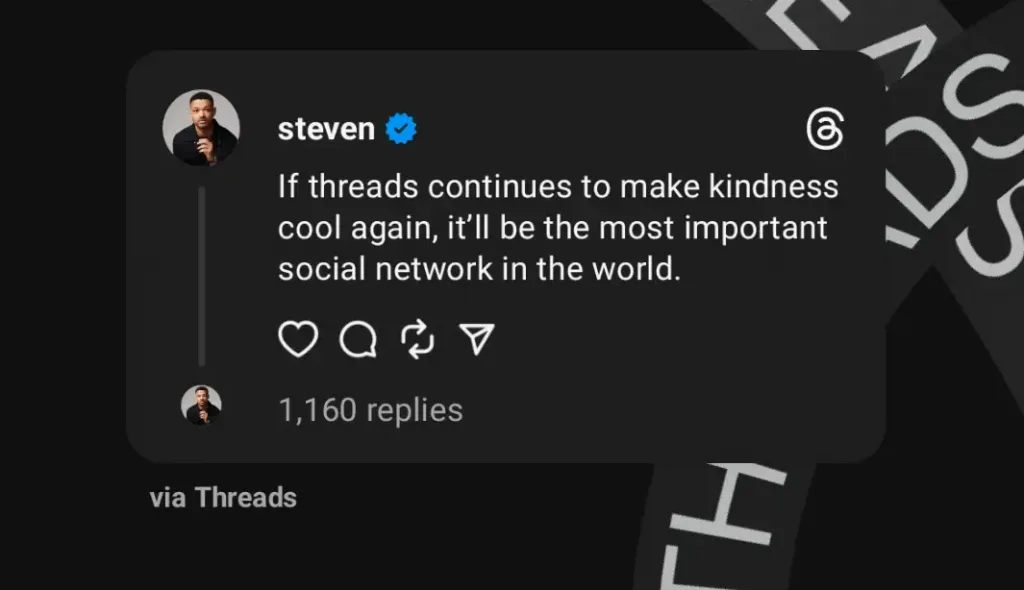 Renowned entrepreneur, Steven Bartlett said it best: "If threads continues to make kindness cool again, it'll be the most important social network in the world."
This is ground zero for a new platform. I know for myself – I'm excited to come to the first day of a new platform that already has millions of followers and with the commitment of The Social Story to use social media for good. That means every decision that we make on this platform has its place in shaping its future.
This is an opportunity for us to imagine a platform that is made for the intent of spreading social good, telling diverse stories and inspiring positive change. Will you join us to make it happen? We'll see you on Threads.