The Social Story proudly supports the Uluru Statement from the Heart and we are supporting the Yes! Campaign for a Voice to Parliament.
As a business based in Australia, we recognise that the land where we operate was never ceded and always was, always will be Aboriginal land.
This year's referendum is an important moment in Australian history to enshrine respect, diversity and inclusion into the Constitution. As a business committed to these same values, we are proud to vote "Yes" on October 14 and encourage you to do so too.
About the Voice
It seems almost inconceivable that an important part of the Australian population do not get a say on the policies that directly affect them. In fact, speaking to many of my overseas friends, they cannot believe this is still happening. And frankly, nor can I.
In the words of the Yes campaign, this referendum asks all Australians to "recognise Indigenous Australians in the constitution for the first time and give them a say in the policies and challenges that affect their communities.
Australians recognise that Indigenous communities face serious and unique challenges.
There are real gaps between Indigenous and non-Indigenous Australians in life expectancy, infant mortality, health, housing, education and employment.
Aboriginal and Torres Strait Islander people live eight years less than non-Indigenous Australians.
Aboriginal and Torres Strait Islander people commit suicide at a rate two times higher than non-Indigenous Australians.
Indigenous Australians have the worst rates of disease in the nation, and child mortality is nearly twice that of non-Indigenous Australians.
Indigenous Australians have made the reasonable request to be listened to about their own issues and their own communities, and given a chance to propose their own solutions."
It has been self-determined and led by the Indigenous community and is supported by the overwhelming majority of Indigenous Australians. The role of the rest of Australia is to not just pay lip service to our respect of this culture, but to ensure that their Voice is enshrined into the Constitution.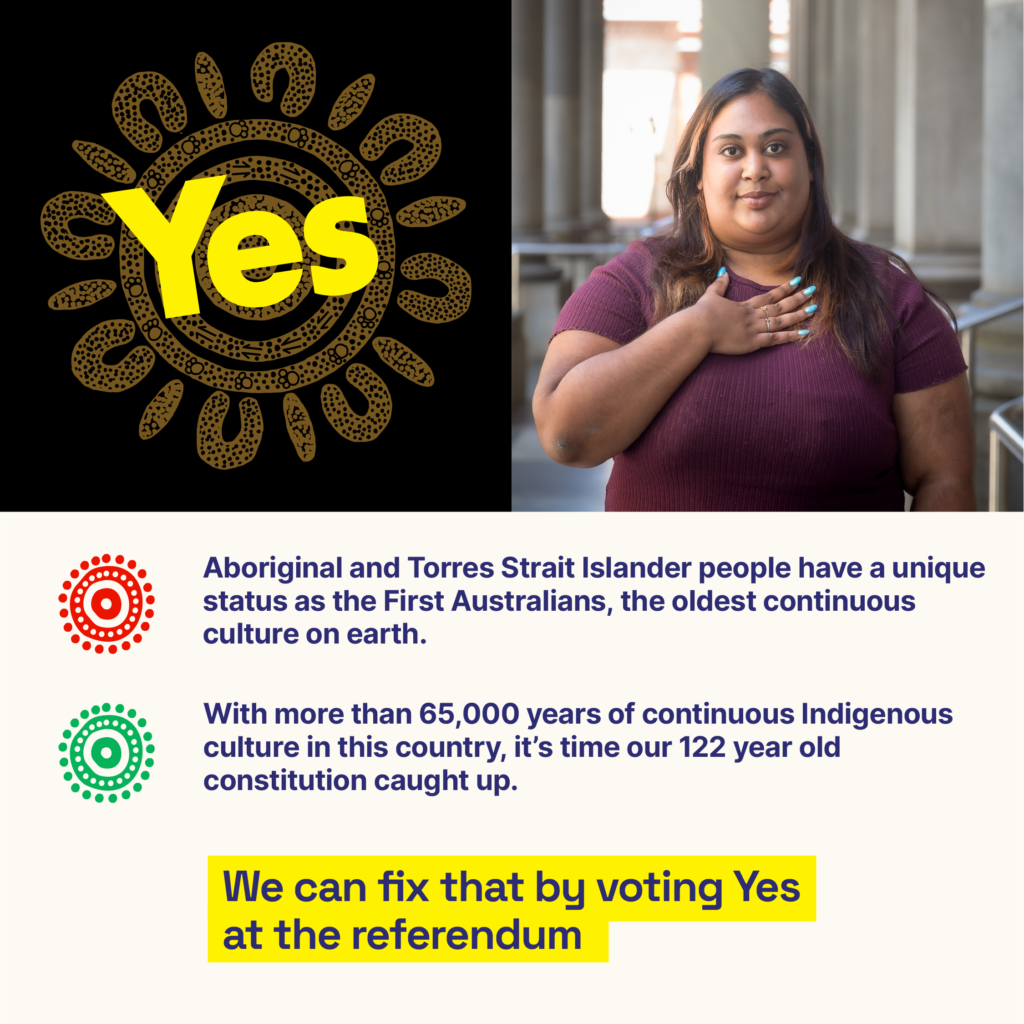 Why We're Supporting the Voice
Throughout Australia, an Acknowledgement to Country is now commonplace at the beginning of any event. It usually goes a little something like:
"I'd like to begin by acknowledging the Traditional Owners of the land on which we meet today. I would also like to pay my respects to Elders past and present."
In recent years, I've been looking further at what these words mean and how they mean something to me personally. There are two main things that stand out.
1. First Nations people are storytellers
One of my earliest memories of learning about First Nations people in school were through their Dreamtime stories. Their oral tradition painted the natural world around us in beautiful stories about the Rainbow Serpent and Tiddalick the Frog.
It should be no surprise that their love of storytelling has connected with us at The Social Story. This tradition is just one of the ways they inspire and continue to contribute to us as an Australian business, fuelling us to empower others to also tell stories of impact.
2. First Nations people are welcoming to all – including my family
It was at an event with Welcome Merchant – that empowers businesses run by refugees and people seeking asylum seekers – where I was reminded of the generosity of the First Nations people during the Acknowledgement of Country delivered by XX.
Even in the language of the Uluru Statement, they are inviting all of us in to a better future. And as a culture, they have always been open and welcoming.
As a daughter of immigrants to this culture, striving for a more inclusive and multicultural society has been a driving force since I was young. It is by the grace of the First Nations people that my family have been able to live and build in this country. And The Social Story would not be here and standing for what it does without that. So why aren't we welcoming them into our Constitution as well?
Acknowledgement of the Country we are on as a business needs to beyond the lip service at the beginning of our workshops and events. And we'd like to recommend the Acknowledge This! workshops on delivering authentic acknowledgements.
Taking this critical step in enshrining their Voice is a the right thing to do. We invite you to learn more about the Yes campaign and the Uluru Statement from the Heart. You can also find resources on ways to get involved by the Diversity Council of Australia here. And for our fellow Aussies, we implore you to join us in voting Yes this October 14.